Perfect your Discovery Calls
Written by:
Kaitlyn Tarver, WISE Client Acquisition Lead
A discovery call is a tool used in sales to establish a relationship with a potential client. It is the starting point in a client's journey with you and an opportunity to learn more about their business, struggles, and goals. This in turn gives them the chance to form trust in your business to offer value to them. Use the following tips to perfect your Discovery Calls.
Come Prepared
Before every discovery call, do your research. When someone has shown an interest in your organization, they likely have an understanding of how you can help them.  You should have a game plan. 
Take a look at their website, Google them, check out all of their social media platforms, and make note of areas you can provide assistance. Once you have an idea of how you can help, write down targeted questions to ask during your call that will get them to open up about their specific struggles and overall goals.
Flexibility in the way you interact
The purpose of a Discovery Call is to learn if professionally you will be a good match, but don't be afraid to have a normal conversation that isn't strictly sales based. You can ask about their day, chat about the weather, and engage in small talk. 
Anything that organically comes up in conversation will help the potential client feel more comfortable. This will also impact their overall experience with you and lead to a better business relationship. 
Listen more than you speak
Everyone knows that sales people are great at talking, but to be successful at selling to your target audience you need to be an equally great listener. While your initial reaction may be to tell a client all of the wonderful things you can do for them, your goal during a discovery call is to gain trust.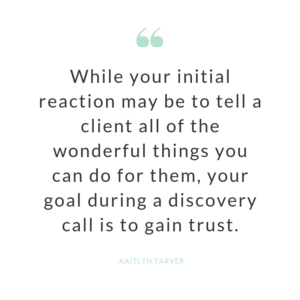 The best way to gain that trust initially is by listening to their struggles, where they see their business going, and give genuine interest in what they are saying. Once you've heard their needs you can introduce  your prepared questions and research. Ask those targeted questions that pertain to what they have just told you and lead the direction of your call from there.
Present yourself as a subject matter expert in what you're selling: your business
Once you have listened to your lead, and they have had the opportunity to elaborate on what they are looking for, you can establish how your company can help get them there. In order to do that you need to have a pitch that encompasses who your company is. (For examples to create a good pitch, take a look here.) 
Follow that up by bringing in examples that relate and show you have had success helping others do this. You can showcase tools you use, processes in place and the options available that can help simplify. You want them to leave your conversation knowing who you are and how you can lead them toward success.
In all sales it's important to keep in mind when talking to a lead that they are potentially entrusting you with their business. To gain that trust you need to listen and get to know them, through genuine conversation. It shouldn't be all about making a sale, but also finding their goals and making sure that you can deliver exactly what they  need. 
Interested in how WISE conducts a discovery call and how we can help your business succeed? Schedule your free discovery call with us today!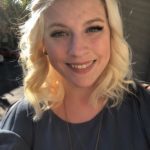 Kaitlyn Tarver
WISE Client Acquisition Lead
Kaitlyn Tarver has a variety of experience in client acquisition and sales. She has spent over 7 years in the customer service industry. As a wife to an Active Duty Marine and mom of two small boys, she credits herself as a adept traveler, who enjoys cooking, crafting and spending as much time as possible outdoors with her family.