You Don't Have to Do It All, So Stop Trying!How a WISE Virtual Assistant can change your life!
Written by: Kelly Palmer, WISE Senior Virtual Assistant
Entrepreneurs face many challenges when running their small businesses. At the top of the list? Trying to balance motivation and desire to do it all with the reality that doing it all isn't possible. There are so many priorities, it can be hard to navigate wants vs. needs. There just aren't enough hours in the day, but it all has to get done! It can be hard to stay true to what drew you to entrepreneurship in the first place. 
Our secret?: You don't have to do it all, so stop trying! 
How to make it happen:
Pull out a piece of paper and grab a pen. 

Review your tasks and calendar. Ask yourself, "What tasks are repetitive and check a box, but don't move the needle on business growth?" 

Make a list of those items by priority. What is the most important? 

Categorize what must be done by you, and what could be delegated to someone else.
What does your list look like? Be sure to consider the following items...
Managing Your Email Inbox
How much time do you actually spend answering emails each day? 
You might be surprised to hear that the average professional spends 28% of the day reading and answering emails. That percentage can reduce significantly with the help of a virtual assistant. 
"On average, professionals spend 28% of the day reading and answering emails."
Using canned email responses developed by you, your virtual assistant can respond to emails with ease. They can field questions, direct email traffic, and manage your inbox to zero on a daily basis. 
This simple shift in your business plan could free up an average of 12 hours a week, allowing you to focus on the things in your business that drive growth. Just imagine what you can accomplish with an extra 12 hours in your week!
Answering Phones
Answering the phone seems like something that can easily be done while working on the next big project. However, studies show that multitasking hinders productivity. 
In fact, according to an article published by the APA, doing two tasks at once can reduce productivity by 40%.
WISE Tip: Put down the phone and allow a virtual assistant to pick it up.  
A virtual assistant can take messages, prioritize callbacks, add things to your calendar, and direct your clients to the information that they need without disturbing your productivity. 
Updating and Managing Your Calendar 
Time is your most valuable asset and managing that time effectively will drive growth. 
"Time is your most valuable asset and managing that time effectively will drive growth."
Having a successful calendar system can make all the difference in your day. A set schedule allows you to be proactive with your activity. 
Instead of reacting to all the things that may or may not require your attention, you can proactively block the times you are available for meetings, phone calls, and training and allow your assistant to fill in those open spaces for you.  
Protecting your time and organizing your schedule will allow you to use the hours that you do have to focus on the growth of your business. 
Basic Data Entry 
(The word basic should give this away.) If it's basic, it shouldn't consume an ounce of your time.  
Hiring a virtual assistant to help with things like updating spreadsheets, entering receipts, validating invoices, and confirming shipments allows you more time to be intentional with activities that will grow your business. 
Organize + Create A Daily Task List
When working for yourself, your to-do list never ends. Along with a successful calendar system, an easy to work through task list can help you successfully manage your time and priorities. 
Imagine showing up to work with a task list already at hand. 
A virtual assistant can help with this as well.  With access to your calendar and email, your virtual assistant can help you stay true to project deadlines, keep you focused on high priority items, and help hold you accountable to the activities that will grow your business. 
How do you determine if hiring a virtual assistant is the right move for you? Consider spending a week conducting an inventory of your time. 
How much time do you spend in your inbox, answering phones, updating your calendar, entering data, or creating task lists? 
Make a list of the activities that you would like to focus on but simply don't have the time. 
Instead of telling yourself that you can't do it all, give yourself permission to stop trying and hire a virtual assistant. You may be in business by yourself but you don't have to do it alone. 
Maybe you've come to the conclusion that you can't do it all, but you aren't sure where to start. Try focusing on your email first. 
Seeing the number of unanswered emails and disorganized folders in your email inbox can create tension between your shoulders. If you could just see a change in the number of emails in your inbox, you might feel a little lighter. 
It's time for a change!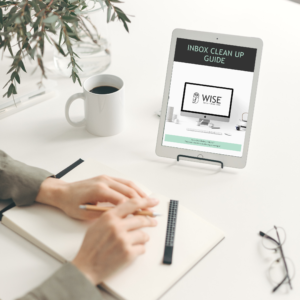 Download this Email Inbox Clean Up Guide to take your email inbox from overflowing to owning it!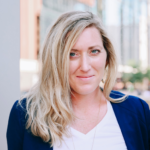 Kelly Palmer
WISE Senior Virtual Assistant
Kelly Palmer, Senior Virtual Assistant at WISE Advise + Assist Team, earned her Bachelor's degree in Marketing from Iowa State University. In true military spouse fashion, she has spent her career bouncing between roles in banking, marketing, sales, and client relations. She enjoys helping clients ensure success through organization, process development, creativity, leadership and communication. She is constantly pushing herself to grow personally and professionally and is passionate about leading those around her through service and gratitude.
Kelly is a Marine Corps spouse and mom of four who fills her time chauffeuring children from one activity to the next and volunteering. She is currently working toward a big personal goal of running 2,020 miles in 2020 and is operating under the philosophy that the only way you fail, is if you don't try.